Club Meeting
July 24, 2019 @ 7:00 am

-

9:00 am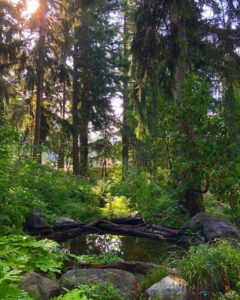 Speaker: Joe Abken
Topic: Kruckeberg Botanic Garden
Description: Join us Wednesday morning, July 24, 2019 at the Shoreline Community College PUB. Our meeting starts at 7:00 AM with breakfast and camaraderie; our formal program (see below) starts at 7:30 AM.
Many of us are aware of the renowned Kruckeberg Botanic Garden located on 20th Ave. NW in Shoreline. Established by Mareen and Art Kruckeberg beginning in 1958, the garden is now a delightful, mature confection of both native and non-local plants and trees in a restful setting.
In 1998, the Kruckeberg Botanic Garden Foundation (KBGF) was formed to help preserve the garden and to assist with its maintenance and various events. Thanks to a Parks bond in 2006, the City of Shoreline was able to purchase the garden from Art Kruckeberg, and formed a partnership with KBGF, which continues to operate and care for the garden. Joe Abken is the Executive Director of KBGF. He will reveal to us more information about this wonderful place, and their plans for the future of the Garden. Bring family and friends to hear Joe, and all about the many activities the Garden offers.