Club Meeting- Program: Community Court Program
January 29, 2020 @ 7:00 am

-

8:30 am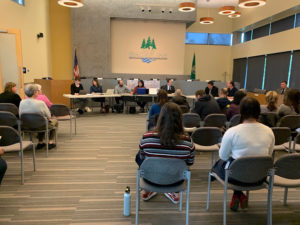 Join us Wednesday morning, January 29, 2020 at the Shoreline Community College PUB. Our meeting starts at 7:00 AM with breakfast and camaraderie; our formal program (see below) starts at 7:30 AM.
Perhaps many of us have been hearing about the new King County Community Court in Shoreline. According to the website, this is "an alternative problem-solving court that seeks to go beyond punishment to identify and address the underlying challenges that may contribute to an individual's further criminal activity. Court is held in Shoreline City Hall. The setting is less intimidating and allows the judge to be seated at eye-level with people. The court addresses things like theft, shoplifting, trespassing, and other low-level offenses. Traditionally, individuals are punished for crimes like these. However, the punishment often doesn't address why the crime is happening."
We'll be hearing from our own Shoreline Rotarian Judge Joe Campagna about the new Community Court. Here's a preview of how the first one went from Shoreline Area News: https://www.shorelineareanews.com/2020/01/a-successful-debut-for-shoreline.html
Come and learn about this innovative court system that could ultimately help people in trouble make better choices and turn their lives around. This is a subject many of our friends, neighbors and business associates will be interested in – invite a guest!